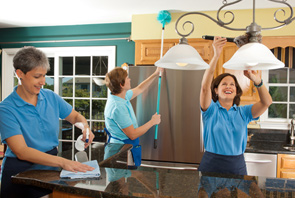 The Maids Are Here, Inc. provides maid service and cleaning service though the Greater Tampa Bay Area.  Our license, bonded, and insured teams arrive on time and clean your home using our Done-Right Detailed Service List™ for maid service tampa.
Hiring a maid service is more than just finding someone to dust and vacuum. You want a well trained team of cleaners that come prepared to thoroughly clean your home from top to bottom and everything in between!



We are a team of highly qualified professional cleaners that are dedicated to cleaning your home or office. "Let us clean it up" and give yourself more time to spend doing more of the things you enjoy more and don't get to do quite as often as your like.
Call us and get your life back! We will give you a clean environment, plus give you some time back on your schedule, and even save you money by not having to buy so many cleaning products on your grocery bill!
The best Maid Service in Tampa Bay! - Maid Service Tampa
The Maids Are Here, Inc. covers the greater Tampa Bay Area and includes Pinellas, Hillsborough, and East Pasco counties. Our cleaning teams follow a strict regimen of detailed cleaning that most other companies could never try to duplicate. We provide the best maid services in Tampa guaranteed! We are bonded, insured, and licensed for your protection. If you hire someone to work in your house that isn't insured, you could be liable! Many clients are not aware of this! Relax, we carry all the coverage necessary to cover you, your home, our maids, and our company.
Get a free quote and try our Maid Service! Switch today and Save!
For a limited time, you can save $25 off our service for new clients! Plus, book 3 and the 4th is free! Give us a try just once and let us clean it up! Our maids come prepared to tackle even the toughest jobs and leave you home looking and smelling clean. There's no better place come home to than a just cleaned home.
Get a quote now...
Here are some of the basic maid services in Tampa:
We look forward to being your favorite maid service in the Tampa Bay area!
We are a pet-friendly maid service! We know how special your pets are to you and we take extra care to make sure they stay safe with minimal stress. We take extra care to make sure your pets also enjoy a fresh cleaned home.
Have a new born on the way? We get introduced to many new clients when they become pregnant and need extra help around the house to get prepared for the new arrival. Expecting mothers have enough to deal without having to worry about picking up the house! Relax and let us clean it up!

Hire our maid service!
Need to hire a maid right away? We make scheduling your home for a cleaning very simple. Use our instant cleaning quote feature and book right now for even extra savings. We have a 100% satisfaction guarantee so you can book with confidence today.
Give the gift of cleanliness!
Buy a gift certificate today! A cleaning gift certificate is a modern way to show appreciation. Seasonal Deep Cleans are a very popular around the pollen and cold seasons when your friends and family could use a little extra help around the home! Order a gift certificate today!